Spring 2017 Trend Report: Kick Up Your Style
Over the last few seasons, we've seen the Athleisure trend grow. After Lululemon amped up the style game in workout gear, it suddenly became acceptable—even fashionable—to wear your workout leggings to brunch and into the evening.
Now, bloggers, supermodels, and street style stars have gotten in on the trend, accessorizing their chic designer looks with Stan Smiths, and brands like Balenciaga, Yeezy, and gasp—Chanel—have made sneakers a staple in their collections.
This spring, switch out your stilettos for a much more comfortable alternative—fashion sneakers. They'll add a low-maintenance, effortless cool to your look, all the while providing the ultimate comfort.
If you've ever questioned whether or not sneakers might ruin your style, read on below to see how you can add more dimension and creativity to your look. With an abundance of styles to choose from, this is the perfect trend for every body type and personality.
The Classic White Sneaker: Play with high-fashion, feminine silhouettes by adding a playful classic sneaker for a sportier dimension.
The OG Adidas Shoe: Try the classic Stan Smith shoe with your favorite minimalist midi dress.
Casual Slip-On: Slip into one of the biggest sneaker trends and pair with another spring staple—stripes.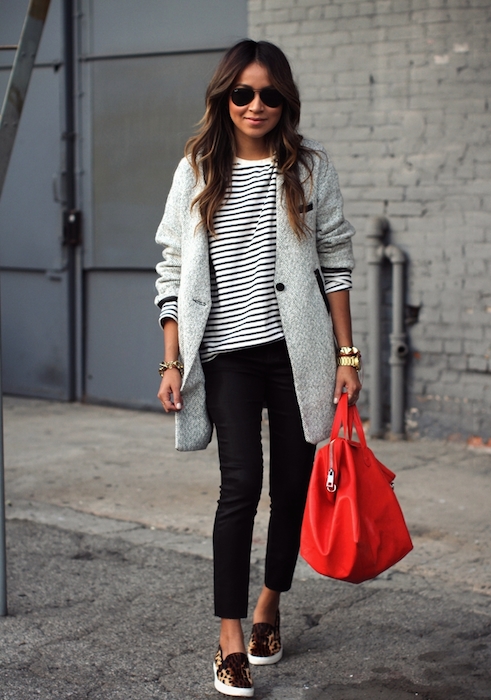 A Sleek Hi-Top: Play with lengths by sporting shorts or a midi skirt with statement-making hi-tops.
A Tried and True Favorite: For a more subdued sporty statement, pair your favorite pair of Converse with leather pants and bright colors.
For even more information on styling this trend, check out my Spring 2017 Trend Report.